Benefit Concert for the Restoration of Notre Dame Organ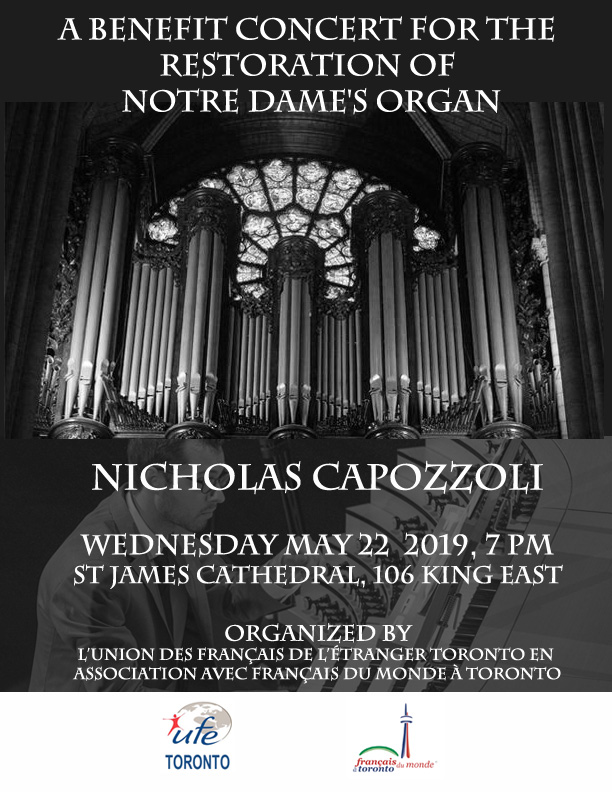 Two of Toronto's French Expat associations, l'Union des Français de l'Étranger and Français du Monde à Toronto wish to invite all francophiles and friends of France to a special benefit concert for Notre Dame and its Grand Organ.
Wednesday May 22 2019, 7 PM
St James Cathedral, 106 King EAST
TICKETS : EVENTBRITE
Listings : theWholeNote – BlogTO – Now Toronto – St James Cathedral
Notre Dame is so much more than a Cathedral, it is a place of History and Music. The main organ, known as le Grand Orgue is France's second largest instrument with over 8000 pipes and 115 stops.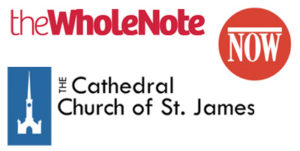 Originally built in the 18th century by François Thierry, it has been under the responsibility of famous French Organists from Louis Vierne to Pierre Cochereau and Olivier Latry. The Grand Orgue has survived the terrible fire that engulfed Notre Dame. However, the instrument cannot be played and will have to be cleaned from dirt and soot and the thousands of pipes tuned again.
This is why we wish to invite you to a benefit fundraiser for Notre Dame and its famous Grand Orgue.
Nicholas Capozzoli, native of Pittsburgh, PA, is an established young organist who currently lives in Montreal. This award winning organist has played many great instruments, from the Saint Joseph's Oratory (Montreal, QC), Washington National Cathedral (Washington, DC), All Saints' Episcopal Church (Atlanta, GA) and the Musée des Augustins (Toulouse, France).
More about Nicholas Capozzoli – nicholascapozzoli.com